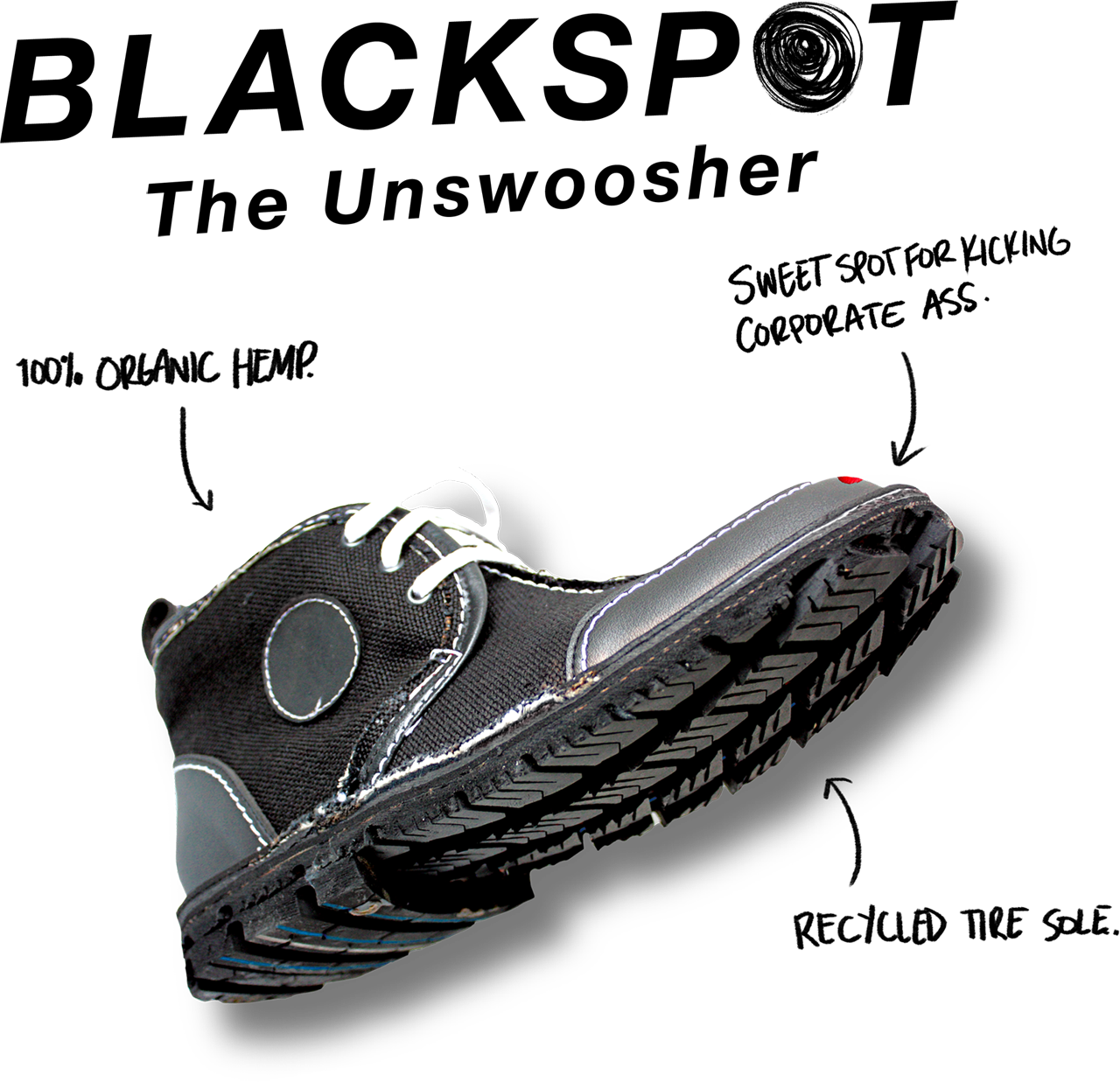 Blackspot Manifesto
We started selling Blackspots 15 years ago. We wanted to go head-to-head with Nike (you know they own Converse, right?) and their celebrity-driven cool machine. We wanted to reject sweatshop labor and pump up green design. The Ecologist magazine called us "the most ethical shoe store in the world."
We've sold tens of thousands of Blackspots … but we've yet to unswoosh the swoosh, to seriously cut into Nike's market share or cause them any real brand damage.
We know it can happen, though. Look at craft beer—it's taken 12 percent of sales from the mega-brands. Farmer's markets are changing the way we eat. And buy local has become a global mantra. By choosing Blackspots, you become part of a movement toward a different kind of future: one not ruled by giant corporations, but by thousands of independently owned businesses. Your Blackspots are an act of resistance against mega-brands like Nike, whose multinational footprint has stomped out the creativity and spontaneity from so much of our lives.
Disruption can happen at any moment. Every day more people are drinking indie coffee, eating indie food, listening to indie music, prowling the streets in indie shoes and learning how to live megacorporate free lives. Join our movement and put a spontaneous, new spring in your step!
100% Vegan
Recycled Tire Sole
Organic Hemp
Union-Made

| EUR | US | Width | Length |
| --- | --- | --- | --- |
| 37 | W7 | 10.4 cm / 4.1 inch | 26.0 cm / 10.2 inch |
| 38 | W8 | 10.7 cm / 4.2 inch | 27.6 cm / 10.9 inch |
| 39 | W9 | 11.0 cm / 4.3 inch | 28.2 cm / 11.1 inch |
| 40 | M7 / W10 | 11.3 cm / 4.4 inch | 29.2 cm / 11.5 inch |
| 41 | M8 / W11 | 11.5 cm / 4.5 inch | 30.3 cm / 11.9 inch |
| 42 | M9 / W12 | 11.4 cm / 4.5 inch | 31.2 cm / 12.3 inch |
| 43 | M10 / W13 | 11.6 cm / 4.6 inch | 31.8 cm / 12.5 inch |
| 44 | M11 | 11.6 cm / 4.6 inch | 32.2 cm / 12.7 inch |
| 45 | M12 | 12.0 cm / 4.7 inch | 33.2 cm / 13.0 inch |
| 46 | M13 | 12.5 cm / 4.9 inch | 34.0 cm / 13.3 inch |