The Big Ideas of 2008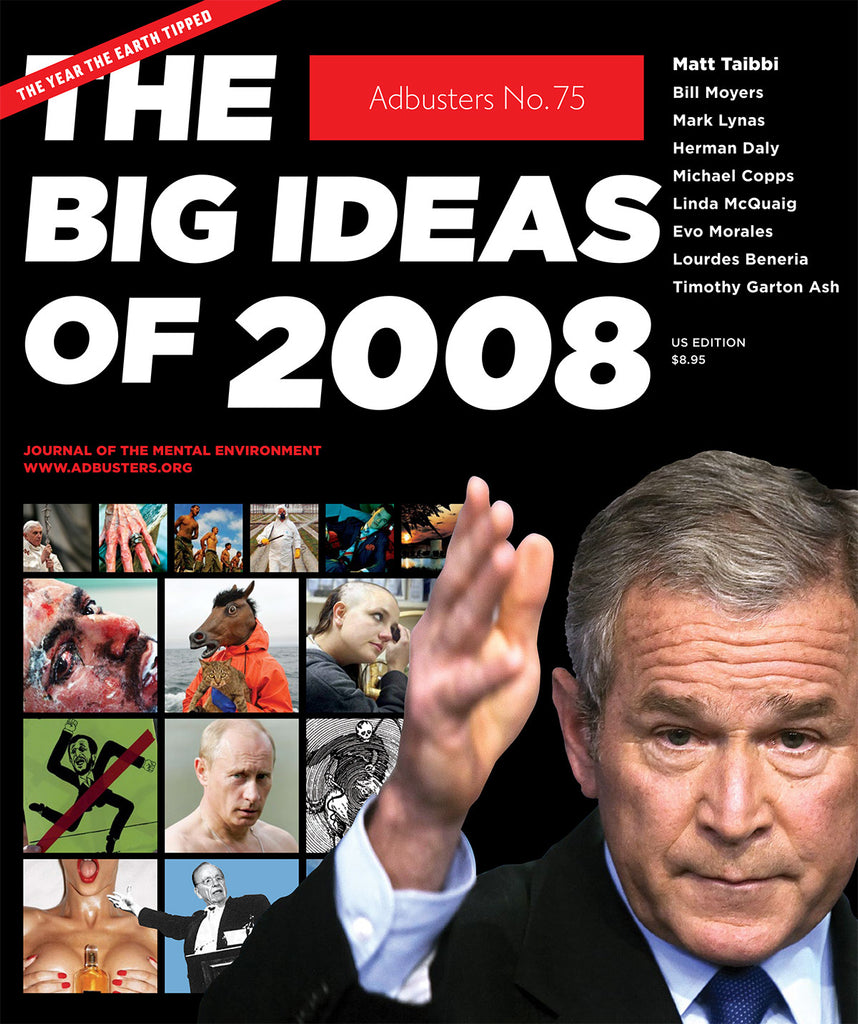 Jan/Feb 2008
Economic Conversion
Some of the world's top economists speak about shifting our priorities to save the planet.
Changing Climate
Mark Lynas is cautious of accepting that big business has changed its stripes on climate change.
Return to the Source
A visual tour of food's evolution from the organic to the synthetic.
Journalism's State of Emergency
How journalism turned from a watchdog to a lapdog of power.
Bush on the Couch
Matt Taibbi delves into the psyche of America's sickest president.
Plus opinion and analysis by Evo Morales, Bill Moyers, Timothy Garton Ash, Linda McQuaig, Herman Daly, Zbignew Brzezinski, Clive Spash, Guy Rundle, Gilles Raveaud, Lourdes Beneria...
Images by Peter Funch, Sas Christian, James Nachtwey, Miles Aldridge, Ed Kashi, Corey Arnold, Brian Ulrich, Delia Brown, Craig Cameron Olsen, Oleg Dou, Ricardo Barcellos, Bruce Davidson...
Shipping, Refund & Exchange Policy

Adbusters is a non-profit with limited resources. We are not responsible for goods lost or damaged during shipping. To ensure your order arrives, we highly recommend tractable shipping methods of overseas orders (outside of Canada), these services include: Xpresspost, Expedited Parcel, and Tracked Parcel. All orders will be shipped via Canada Post services and we do not offer alternative courier services at the moment.

Unworn Blackspot Unswooshers can be exchanged provided the customer bears the cost of shipping. We do not refund cancelled subscriptions. We appreciate your understanding. Email info@adbusters.org for more information.

FAQs

How often is Adbusters published?

Adbusters is published bimonthly (every two months), producing six issues a year.

When will I receive my first issue?

Print subscriptions start with the next issue to go to print, which means that there can be up to a two month wait depending on when you subscribe (see publishing schedule on our subscription page). All subscribers will receive a free digital copy of the current issue sent to them via email at the time of subscribing.

How long does my subscription last?

Most subscription options are for one year (6 issues). You can try our Lifetime Membership or Recurring Subscription options if you want to avoid having to resubscribe every year.

How will I know when my subscription has expired?

We will notify you by email up to 2 months before your subscription expires. Please be sure to include your email address in your online order and adjust your inbox filters to ensure that you receive our emails.

What are your digital issues like?

Our digital issues are high-quality PDFs delivered via email (WeTransfer). All our PDFs are DRM-free so you can share them with your friends.

Why are the items in your store only available in US dollars?

The majority of our subscriber base is located in the the United States. If you are a Canadian subscriber, please contact us at subscriptions@adbusters.org or call 1-604-736-9401 to learn more about obtaining a Canadian discount. You will still be charged in USD at the most current exchange rate, but the discount will neutralize that plus a bit more!

Do you have a student rate for subscriptions?

You can receive a Student Discount of 50% off a one-year print or digital subscription by contacting us at subscriptions@adbusters.org. You will be asked to provide your student ID number and the name of your institution.

How come the discount code does not apply correctly?

Our Culture Shop (Shopify) only accepts one discount code per order. You must remove the existing discount before applying a different one. If you would like to use multiple discount codes on different items, you might want to consider placing separate orders. If you need any further assistance on applying discount codes, please contact us at info@adbusters.org.

* Please note that no discount codes are applicable to recurring subscriptions.

Why should I support Adbusters?

Adbusters is one of a handful of magazines in the world that receives zero funding from advertising (print or online), corporate sponsorship or government/foundation grants. We are entirely reader-supported, allowing us to remain fiercely independent in what we do and say. We operate as a non-profit organization, which means that every dollar we raise through the sales of our magazines and other merchandise goes directly back into our campaigns and the production of the magazine. When you subscribe to Adbusters, you are joining a network of artists and activists committed to speaking truth to power around the world.